04.07.2009: Who's got two thumbs and is going to Chicago in July?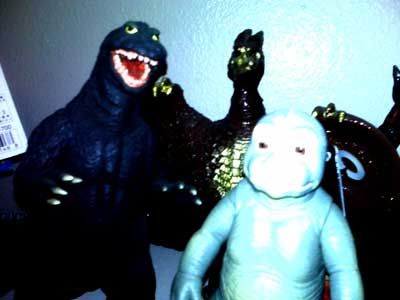 This guy! Oh, you want an explanation? Well, I got a wild hair up my angilas today and used the stash of frequent flier miles to buy my ticket to Chicago….in July…. for G-Fest!
I haven't been to a G-Fest since 1999 and I have to say that aside from the prospect of interviewing a bunch of people and promoting the podcast, I'm really looking forward to hanging out with a bunch of Godzilla fans again! You see, while I have friends that are mildly interested in giant rubber monsters, I'm pretty much the only guy that I know that is totally nuts for this genre. A majority of my friends dress up in Stormtrooper armor, so it's not like I am isolated from the geek community. So if you are heading to G-Fest this year and see a dude walking around in a Kaijucast T-Shirt, that'll be me – so make sure you say hello. I'm just a little amped at the moment because I just booked my flight and the hotel. 😉
Anyway, I'm going to start prepping the new show which might be a little weird since I won't actually be interviewing anyone this month. I have the second half of my interview with Jeff that I'm going to chop down a little and split up with some nice music.
Since I won't have it done in time to "report" this, however I wanted to point out that Scifi Japan has a story on the front page right now about a Los Angeles Japanese Film Festival taking place between April 10th and 26th in three theaters. 22 feature films in total will be shown, including a number of both North American and Los Angeles Premieres.
The lineup includes Mamoru Oshii's anime hit THE SKY CRAWLERS, the LA premiere of ALWAYS: SUNSET ON THIRD STREET- 2 (featuring a cameo by Godzilla), Kiyoshi Kurosawa's horror film RETRIBUTION, the LA premiere of EVANGELION: 1.0 YOU ARE (NOT) ALONE, the Japanese American internment camp documentary TOYO'S CAMERA, the US premiere of the big budget disaster movie 252: SIGNAL OF LIFE, the comedy drama FUNUKE SHOW SOME LOVE, YOU LOSERS!, the LA premiere of the Zatoichi update ICHI, the LA premiere of Katushiro Otomo's live action fantasy MUSHISHI, and a tribute to actor Ken Ogata.
If you're in LA, check it out!
That's all for now, but say tuned for the next show. Hopefully, I'll get it done and uploaded this weekend!