09.30.2009: The Art of Screen Printing Godzilla
In the mid-1990s I started buying a few show posters from bands that I listen to – I mainly focused on Frank Kozik's stuff, but I also have several more from other artists. Basically, there's something that really "does it" for me with silk screened posters. The older screened Godzilla posters are fairly hard to come by and, by jove, are they pricey!
In 2004, I had the posters made for the 50 Years Of Godzilla Film Festival. They were well done, but they were printed with an offset printer, so they looked exactly like my file. Those kinds of printers can make any color and once the artwork is in the spool, all you really have to do is sit back and watch the output. Call me a romantic, or crazy for that matter, but there's something very personal about screen printing. First, it's a lot of work to get your colors down to just the one or two or three (or however many) that are necessary for however many screen you are working with. The next step is that the colors must be separated so that individual screens can be created – quite a pain in the butt. Once the screens are made, the printers line up the registration marks on each screen, making sure that each piece of the artwork is aligned properly. The inks get applied one color at a time, with adequate dry time between the processes. It's messy, sweaty work and I couldn't have more respect for the artform.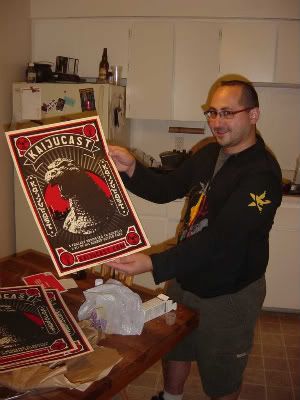 So earlier this year, I was with talking Jason Shaw, a friend of mine who works with a local screen printer, RichGraphix. I told him about wanting to maybe do some two color screen-printed flyers for the show and Jason knew a lot more about the process than I did. It was sort of a pipe dream of mine to create a flyer based off of one of the old King Kong vs. Godzilla posters. But I let that sit on the back burner of my brain for a little while…..until I signed up for the Portland Halloween Bazaar.
I signed up to promote the podcast which might seem sort of silly… I mean, just get the word out locally? It would seem that the minimal amount of fans here in the Portland area that I could promote the show in other ways, especially since the Bazaar is basically a marketplace and I don't have anything to sell. No way am I selling any of the collection, right? (in case you didn't know, the answer is "Right, Kyle!"). Then I started thinking about making those flyers….but who sells flyers, right? I decided to come up with some cool artwork for a flyer anyway. But the artwork was so compelling that I just kept working on it until I had something that looked kind of like the artwork from the Billiken kits and the older work of Shepard Fairey. I decided to call some screen printers, including my friend Jason and get some quotes for a two color print. I thought about doing a run of 100 or 200, but I didn't want to sit on them. I wanted it to be a one time thing. I wanted to produce something that I could be proud of. So instead of 100, I decided to do a run of 50. But the number 50 doesn't really suit the King of the Monsters…. what closer (and better) number than 54. So I called Jason again and decided to do a limited run of 54 prints. I also wanted them to be affordable, so I decided to charge $5 for each one.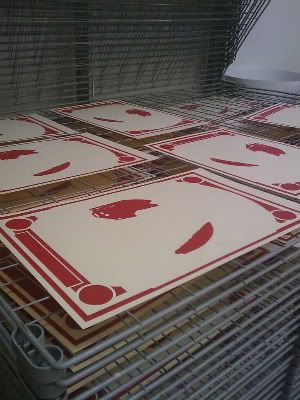 Jason took the artwork and in a couple of weeks told me that the prints were ready. We hung out last night and watched the H-Man, which I sort of enjoyed, there were no giant monsters and the story wasn't that great, but still good to see after all of these years. But the real treat was getting to see all of the prints. They look great! I actually signed and numbered them all tonight. Personally, I hope they go over well and hope that I sell them all at the Halloween Bazaar. That way I can gauge interest from the blog and maybe do another run in a different color!
Well, whatever ends up happening with these, I'm glad I made the decision to go with screenprinting them. Stay tuned after the 3rd and I'll let you all know how many are left.
If you do live in Portland, the Halloween Bazaar will be open to the public between 11am and 7pm this Saturday (Oct 3rd, 2009). Aside from there being a TON of vendors, there will be lots of music, a shadow puppet theater, the Coffin Cruisers Hearse Club will be on display with a Death Proof Nova Replica, too! Plus, I'll have my son with me and there will be an all-new DIY Craft Area where kids can dive into paper crafts,  adorn papier mache calaveras and skull masks. Gawd, I love Halloween!