10.29.2010: The Death Kappa review gets stuck in my throat
Mrrrrrrr… I'm kind of ill and needed to post this episode, so I don't sound my best. But regardless, there's some cool stuff to cover, but if you don't like to read the blog post details, you can download the twenty-second episode of the Kaijucast right here. This month, I opted to not scout for a guest mostly because of this annoying feeling in my throat – I'm sure it's not a big deal, but I didn't want to get anyone sick either.
Especially since I need to go out and do stuff this weekend. You know… Halloween weekend? It is truly the most wonderful time of the year. But I'm rambling again, kind of like I do in this episode. In fact, as you are listening to the Daikaiju Discussion from this month, you can actually hear me looking through my book to get the director of the film – just another nod to the level of professionalism you can expect here at the Kaijucast! We should probably cover the musical selections.
TRACK LISTINGS
1. Main Title by Akira Ifukube from Godzilla vs. Mechagodzilla (1993)
2. "Godzilla" by Blue Oyster Cult
3. Hyper Battle Arena by Takayuki Hattori from Godzilla vs. Spacegodzilla (1994)
4. Appearance of Spiega by Masaru Satoh from Son Of Godzilla (1967)
5. Meteor Storm by Kow Otani from Gamera 2: Advent Of Legion (1996)
6. Feel In My Heart by Akira Ifukube from War Of The Gargantuas (1966)
SUGGESTED READING:
Tomoo Haraguchi addresses American Godzilla fans
Monster Mash in San Francisco this Weekend!
August Ragone's Blog / Patrick Macias' Blog
2012 Director Rumor and subsequent squashing of that rumor
LOCAL EVENTS:
Oct. 29th – Blood & Guts Bash
Oct 31st – The Walking Dead screening
Nov 2nd – Geek Trivia (w/ME hosting!)
Nov 4th – Mike Lawence Steampunk Fairy Tales show at the Sequential Art Gallery
Nov 16th – Someday Incubator Lounge
Nov 20th – Swashbucklers Ball
Nov 21st – Portland Comic Book Show
Nov 30th – Firefly Episode screening / Zac Whedon Q&A & Float out signing
*Love Grindhouse Films? Make sure you check out  Missing Reel TV it is awesome!
DAIKAIJU DISCUSSIONS HOMEWORK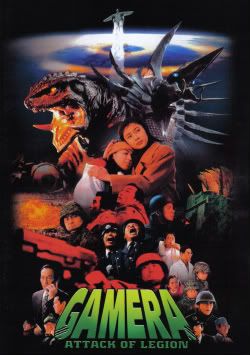 The November installment of the Daikaiju Discussion will highlight the 1996 Gamera 2: Advent of Legion. We'll be watching the newly released BluRay version of the film, just because it's some thing new and cool – hopefully it's the subtitled version. Just make sure that you watch the film and get your homework turned in before the last week of the month. I am considering changing that due date next year (these late releases are tending to kick my proverbial tail). Just email it to me and I'll get your notes included in the October episode.
You can download the twenty-first episode of the Kaijucast here! Feel free to write me if you are enjoying the podcasts or if you have any music requests, questions or even ideas for future shows, too. Thanks again for being such a cool bunch of Kaiju fans and sending in all of the great comments I've been getting. Don't forget that if you live near Portland to check out those awesome events above!
Kaijucast Episode 22
[ 1:09:18 ]
Play Now
|
Play in Popup
|
Download