08.31.2017: Attack of the Super Monsters Daikaiju Discussion
Where to begin in this little blurb/writeup for the blog?
I know some of you have been waiting to hear about this one. I actually found out about Attack of the Super Monsters (1982) a long time ago, watched it and then promptly and willfully ignored it for years. It's not a film that even should be considered in the same way that Godzilla's films should and are. Attack of the Super Monsters is a compilation film.
What's a compilation film, you ask?? Well, Sean joined me to talk about that, rittai anime, the Japanese source material and a whole lot more in this episode covering this very strange film. Attack of the Super Monsters might not be your cup of tea, but it definitely deserves a viewing at least once – hopefully with some friends and some laughs. Now, someone point me in the direction of an Izenborg episode online, because I can't find any to watch!
SUPER SAURIAN SONGS:
1. Mothra vs We Are Scientists by We Are Scientists from Safety, Fun, and Learning (In That Order) (2002)
2. Introduction/Opening Titles by Toshima Toshiaki from Dinosaur War Izenborg (1977)
3. Dinosaur War Aizenborg Theme by Animetal from Animetal Marathon III (1998)
4. Daikaiju Theme by Big Pimp Jones from Valley of the Giants (2017)
SUGGESTED VIEWING:
Godzilla Monster Planet update on SciFiJapan
Anime Godzilla Display at Kawasaki at August Ragone's blog
CATASTROPHIC EVENTS:
9/8 – 9/10 Rose City Comic Con in Portland, Oregon — come out to our 12pm panel on Saturday!
9/9 -> Kaijucast Listener Party at Killer Burger in downtown Portland, Or
10/20 – 10/20 Grand Rapids Comic Con in Grand Rapids, MI w/Tsutomu "Tom" Kitagawa
10/27 – 10/29 Chiller Theatre in Parsippany, NJ w/Linda Miller (King Kong Escapes, The Green Slime), Linda Haynes (Latitude Zero) and Carl Craig (Gamera vs. Viras)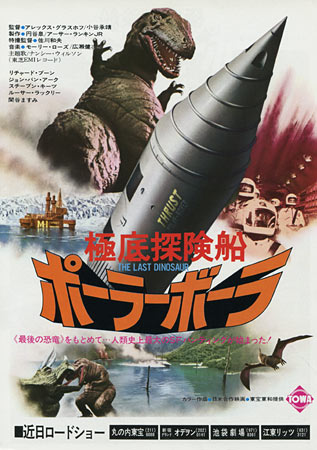 SHIN GODZILLA GIVEAWAY WINNERS:
Big congratulations to the following entries that correctly answered the trivia question(s). These brilliant people have won themselves some stuff autographed by Shinji Higuchi, one of Shin Godzilla's directors!
JOHN DIXON, Irvine, CA
JOHN DREGALLA, Dayton, OH
MATTHEW KINSEY, Jackson, MO
KEN HUNTLEY, Clermont, FL
RON ALLARD, Central Falls, RI
DAIKAIJU DISCUSSION FOR NEXT MONTH:
September brings us another "off-brand" entry into the kaiju genre and I believe it might be related to this month's movie – as we mention in the episode. We will be watching The Last Dinosaur (1977), which was a co-production between Rankin Bass and Tsuburaya Productions. The film is definitely available for sale, legally by Warner Bros.
Kaijucast #212 Attack of the Super Monsters Daikaiju Discussion
[ 1:06:38 ]
Play Now
|
Play in Popup
|
Download