03.30.2010: Giant Cyborg Chickens? Episode 15 heralds March Madness!
I didn't have just one guest for this episode, I had SIX! That's right, folks, the Kaijucast is all about Gigan for episode fifteen (which of course is available for download right here) and I was almost able to get every single local guest in to watch it (maybe next time, Rob!). This episode ran a little long, mostly because of the great discussion for Godzilla vs Gigan, but also because some major news was announced just today. If you don't already know about it, you'll just have to listen to the show.
Or, y'know…. just look for Godzilla news items from today. It doesn't take a brain surgeon to check Variety. Seriously it could be the good news that we, as Godzilla fans, have been awaiting for years. That being said, though, those audiophiles out there probably are looking for this month's track listing. And I won't deny you that right!
MARCH MUSIC
1. Main Title (repeat) by Akira Ifukube from Godzilla vs Gigan (1972)
2. Three Giant Monsters' Ferocity by Akira Ifukube (found on Godzilla Perfect Collection Box Set five, disc 6, track six)
3. Destruction of Shibuya by Ko Otani from Gamera 3: The Awakening of Iris (1999)
4. Mechagodzilla II Counterattacks by Akira Ifukube from Terror Of Mechagodzilla (1975)
5. Brown Gargantua vs Green Gargantua by Akira Ifukube from War Of The Gargantuas (1966)
6. Requiem by Akira Ifukube from Godzilla vs. Destoroyah (1995)
SUGGESTED READING (and watching and listening!)
New Legendary Pictures Godzilla Announcement [ variety.com / comingsoon.net ]
Negadon creators' new project on Scifi Japan
Amazing Shogun Warriors' GAIKING Teaser [ Youtube Video / Ain't It Cool News ]
New Podcast Alert!
Because I totally believe that all Godzilla fans need to stick together, I'm happy to share that another Godzilla podcast called Tokyo SOS started recently. Jesse Garret and Thomas Matis have taken on the task of reviewing every Godzilla movie. Their first episode sort of encapsulated all of the films and now they are getting more granular. The second episode talks about the original Gojira and the Americanized version, Godzilla King Of The Monsters. Make sure you check it out and if you like what you hear, they are on Facebook, too.
Anime Oasis Convention: It's official – I'll be heading to this convention in May and hosting three panels!
Kaijucast Wondercon Invasion! Keep an eye out for photos from our trip to San Francisco this weekend…
If you haven't picked on up yet, those super awesome Kaijucast Prints are still available!
DAIKAIJU DISCUSSIONS HOMEWORK: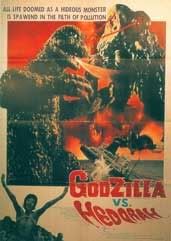 For the fourth assignment, you'll need to watch the infamous 1971 film, Godzilla vs. Hedorah. Once again, I'll be watching the Sony DVD that came out in 2004 some time towards the end of the month.   If you have comments, questions or even just want to tell me what you liked best about this movie, email them to controller@kaijucast.com sometime in the first three weeks of April and I'll compile everything for that episode.
Download the fifteenth episode of the Kaijucast right here!  Feel free to write me if you have any music requests, are enjoying the podcasts or if you, questions or even ideas for future shows, too – also don't forget to follow the Kaijucast on Twitter or become a fan on Facebook.
Kaijucast Episode 15
[ 1:14:38 ]
Play Now
|
Play in Popup
|
Download